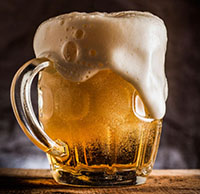 At Wine Kitz Lower Sackville, you can find everything you need to make delicious beer! It's affordable and easy.
You can also brew on our premises for a fee of $40 per batch.
We carry a wide array of beer kits and all the equipment and accessories you'll need to make beer at home.
Just tell us what kind of beer you love – light and refreshing? Malty or hoppy? Mexican style? – and we'll help you craft a batch of beer you can enjoy in only two weeks!
Choose from many different beer styles including:
FESTA BREW
Blonde Lager • Brown Ale • Continental Pilsner • Cream Ale • Double Oatmeal Stout • Dry • Pale Ale • Red Ale • West Coast IPA • Wheat Beer
All above beer kits make 23L (approximately 60 x 341 bottles)
Beer kits are a carbonated product and must be bottled in pressure safe bottles such as glass beer bottles with standard beer caps or plastic PET bottles with screw caps.