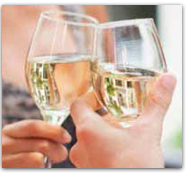 WINE OF THE MONTH SPECIALS
Each month, we offer discounts on specially selected wine kits.
This month, December 2018, enjoy 15% OFF the following:
Traditional Vintage Shiraz, Australia – When your day needs a flavour intervention, reach for this dry red with its aromas of blueberry and spicy oak. Smooth and inviting on the palate with flavours of blackberry, raspberry and pepper.
Traditional Vintage Symphony – Harmonious tropical fruit flavours, adored by crowds, music to your mouth …here's the symphony that always finishes crisp and clean (if a little too quickly).
Atmosphere Shiraz, Australia – Ripe black and red berry aromas with peppery spice. Intense juicy dark fruit flavours enhanced with spicy oak.
Atmosphere Pinot Grigio, Italy – Crisp & fresh with delicate floral aromas; green apple on the palate, with subtle mineral, citrus & tropical fruit flavours.
This is the perfect time to stock up your wine cellar!